Sports
Hockey (Inline & Ice):
After our move to Munich in 2015 I really got into these two sports. First I joined an inline hockey pickup game, which is played every Wednesday near the Flosslände in Thalkirchen. It is a good way to break a sweat and I really enjoy the camaraderie among the guys.

From November until March I played pickup icehockey in Gründwald. Even without bodychecks, the games were pretty competitive. If you make a mistake, you are definately going to hear about it! But you just have to get used to the guys talking smack and then it′s a lot of fun.

I kept these activities going after our move to Zurich. I am now a proud member of HC Nando! We play inline hockey at the rink in the Hardhof sports complex, from March to October. During the colder months we in turn have an irregular shift on the oudoort hockey rink in the Heuried sports complex. Contact me if you want to join either of these activities, since new players are always welcome to join!


Soccer:
When I was a kid, I played football (soccer) for over 10 years in the local club. Getting experience at every possible position, I was most known for my killer instincts in the box and scoring tons of goals (although not by headers, nor from the penalty spot). I was never one of the fastest guys on the pitch, but definitely faster *with* the ball than without…

In spring 2011 I took up soccer again by joining a 6. division team in Finland. The club's name was Kilo IF. In 2014 I briefly joined the over-35y team, with which I enjoyed a couple of wins. Unfortunately my body keeps breaking down and I′m missing a lot of games and practices. For this reason I've finally put an end to my career in 2015.


Basketball:
Basketball is another passion of mine. I've played on and off since my teens, but more often after moving to Finland. My favourite place to play was next to the beach at Hietalahti in Helsinki, but unfortunately this court doesn't exist anymore. In the late 90s we had pickup games there almost every Sunday, which moved to Kisahalli during the winter. Unfortunately everyone grew older and these days it's tough to find some good games. Luckily I met a few guys during my tryout with the Roosters american football team in 2007, so I joined some of them to play in the 5th division.

After playing multiple full seasons on that level (some years even on two different teams!!) I felt pretty comfortable on the court. All I needed were some good practices, during which I got to run a lot.

Since moving away from Finland my basketball endeavours have been limited to irregular shooting practices.


American Football:
I always wanted to try this sport and it finally happened after I moved to Lohja, Finland, in 2000. The local team, the Lohja Lions, played in the first division and in my only season (2001) we got third place. My position was Tight End, the most interesting position after the Quarterback, because you are involved in every offensive play (either as a pass catcher or a run blocker). I did pretty well and even took home the Offensive Rookie of the Year trophy. But it was a very time-consuming hobby, so I gave it up after that one season. I tried a comeback a few years later, but my body had other plans.


Baseball:
I played the game for over ten years, in swiss and finnish leagues. During my career (if you can call it that) I played for the Zürich Barracudas, Helsinki Twins, Helsinki Icebreakers, Vantaa Giants, Espoo Athletics and Helsinki Eagles. After the end of the 2008 season I announced my retirement from amateur baseball, although I came back in 2009 to play some games (among them the first All-Star-Game in Finland). But this chapter has been closed for a while now.

My career highlights include: Playing for the Swiss national team in Regensburg, Germany; Winning the Playoff MVP award (Finnish League) in 2005 (2 Grand Slams, 13 RBI's); Winning the 2007 MVP award (Finnish League) and making the playoffs with the Eagles.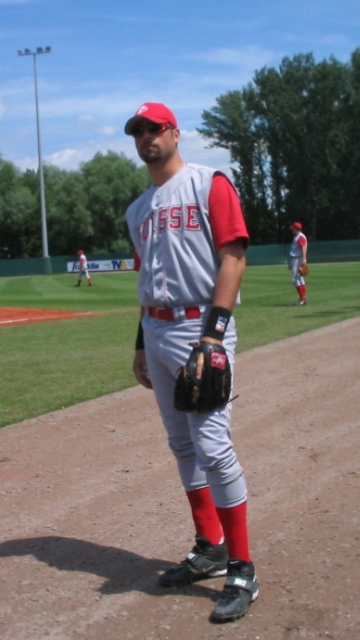 Last edited: 13 January 2022