Hi & welcome to my site!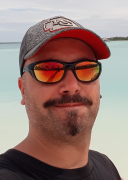 My name is
Raffi Räber
and I currently live near
Zurich, Switzerland
. By checking out the different pages on this site, you'll get to know me and my hobbies a bit better.
I am quite the traveller and have visited 77 different countries so far. You can find some helpful and interesting links under the
vagabonding
tab in the navigation bar. If your thing is
music
, then check out my mixtapes and some of the tracks I produced myself. If you're into board games, then you can play an email-based
Connect-4
, which I've programmed myself. The
sports
section includes info about the teams I'm playing (or used to play) for. I usually earn a living by
programming
, so there's some info about fantasy games, my everyday jobs and other websites I've been involved with. Lastly I invite you to look at my
photo album
, where you can see pictures I've taken while on holiday, somewhere around the world.
Don't hesitate to
contact me
. I'd be glad to be able to help you with any problems, questions or tasks you might have for me.
Meanwhile, check out my
Youtube channel
or my
Instagram account
.
Enjoy exploring my website!
Raffi
Last edited: 10 January 2022